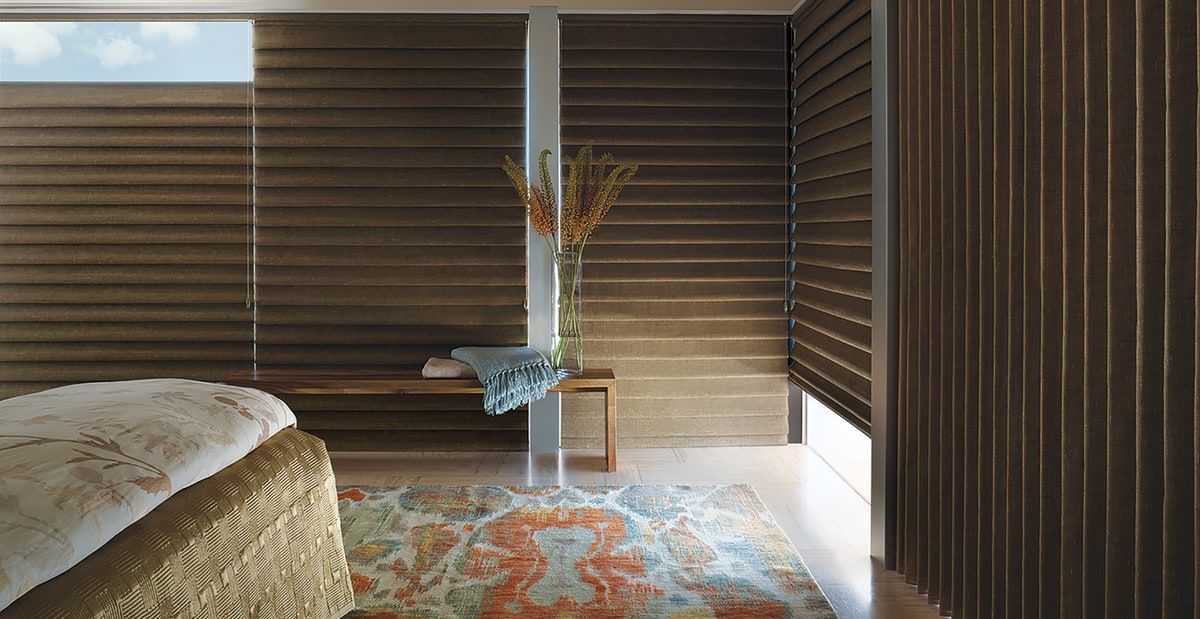 WINDOW COVERINGS FOR LIGHT CONTROL & PRIVACY.
Need to darken your bedroom to help you sleep more soundly? Reduce glare on your television when watching a movie?
In Tucson, we have an abundance of light, and so naturally, we have an abundance of options for window treatments. Desert Winds offers a range of options for the right amount of room darkness. Some of our products that allow you to fine tune the amount of light in your rooms are our plantation shutters, wood blinds, and shades such as the Pirouettes, Silhouettes, and Luminettes.
ROOM DARKENING & BLACKOUT
If you want to block out as much natural light as possible and desire blinds or shades, our Hunter Douglas line of window treatments have maximum light-blocking qualities that minimize light gaps, seams and rout holes with a de-Light™ feature. However, plantation shutters will always boast the least gaps around windows, and therefore provide more consistent darkness.
ROOM DARKENING FABRICS
While every Desert Winds window covering set allows you some measure of light control, some offer more room darkening benefits than others. A key consideration in shades is fabric type and color. Sheer fabrics typically soften and filter sunlight, while semi-opaque and opaque versions almost completely block it. We say 'almost' because these fabrics darken a room but do not entirely eliminate light.
LINERS
If you are looking for additional room darkening capabilities for window shades, consider a room darkening liner. The liner can be sewn directly to the face fabric or, for ultimate flexibility, can operate independently.
Connect with us and schedule an appointment
Give us a call at 520 745-1093 and make an appointment for our showroom or an in-home presentation.
Our hours are 8:00 - 4:30 Mon - Fri
519 East 28th street
Tucson, Arizona 85713